Deck Stains & Sealers
Brown Treated Wood from Northern Crossarm is the rich, prefinished lumber product you've been waiting for.

The Nation's #1 Brown Treated Wood Supplier
Northern KDAT Deck Sealer
Northern KDAT Deck Sealer is a durable wood finish that helps protect against the damaging effects of water, fungi and UV radiation on all types of wood surfaces including cedar, redwood, pressure-treated and composite lumber. V.O.C. compliant, this water-based sealer delivers a beautiful matte finish, fortified with transparent oxide-based nano particles. There are over 30 trillion nano particles per square inch that provide extreme, all-weather protection.
Northern KDAT Deck Sealer Features & Benefits
recommended for nKD Decking
Northern KDAT Deck Sealer is the ideal solution for Northern KDAT Decking.
Protects & Enhances Lumber Appearance
Brings our KDAT Brown product back to life with a clear, water-based and protective sealant.
Enhances the performance of pressure treated wood
Since Brown Treated Wood has so much of its moisture removed, it's significantly lighter than a standard wet or green pressure treated deck board.
v.O.C.-Compliant, Matte Finish
Low V.O.C. levels with a clean, matte finish look.
100-150 sq. ft of coverage per gallon
1 Gallon covers 100-150 sq ft. in one coat – that's roughly the size of a 12×12 deck.
available in clear
Northern KDAT Deck Sealer is available in clear. To match our KDAT Brown or Revere Deck Framing, please combine product with a 4 oz. bottle of Brown Color Mix.
30 million nanoparticles per square inch
UV, fungi and mold protection with over 30 Million nanoparticles per square inch.
can be used immediately on any kDAT Products
Since KDAT is already dried, you can use our Northern KDAT Deck Sealer immediately.

The Nation's #1 Brown Treated Wood Supplier
Northern Crossarm brown color mix
NEW for 2022! An exact-match brown formula to refresh Brown KDAT lumber or decking. Also used for end-cuts. Simply mix the 4-oz. container to 1 gallon of Northern KDAT Deck Sealer (Clear).
Northern crossarm brown color mix Features & Benefits
Exact-match brown formula
An exact-match-formula for KDAT Brown and Revere Deck Framing. Mix in the proper ratios to touch up end cuts or full-size boards and framing.
simply shake, mix and stir
Simply mix our Brown Color Mix with our Clear Northern KDAT Deck Sealer to bring your rich brown deck back to life.
add 4-oz. brown color mix to 1-gallon of Deck Sealer
Simply combine the bottle with Northern KDAT Deck sealer – the 4 oz. bottle combined with 1-Gallon of deck sealer is the proper exact-match ratio for our brown products.
can be used for end cuts
Can be used to touch up the ends of deck boards.
use on test piece before application
Before applying to entire deck, please test on a smaller sample piece to ensure that you're achieving the desired results.
(8) per box. sold individually at retail stores
Available at your nearest KDAT Brown or Revere Framing dealer.
Find A Dealer
Looking for your nearest KDAT lumber dealer? We have stocking yards throughout the United States.
"I refinished my deck with northern crossarm's deck sealer, and not only was it fast and easy to apply, but the end result brought my grayed out deck back to life."

Brett Hansen, Homeowner, Eau Claire, WI.
Deck Sealers & Stains Photo Gallery
Deck Sealer FAQ & Information
Brown Treated Wood FAQ
How To Apply Northern KDAT Deck Sealer
Watch this short, 2-minute clip before sealing your deck with Northern KDAT Deck Sealer.
Brown Treated Wood Resources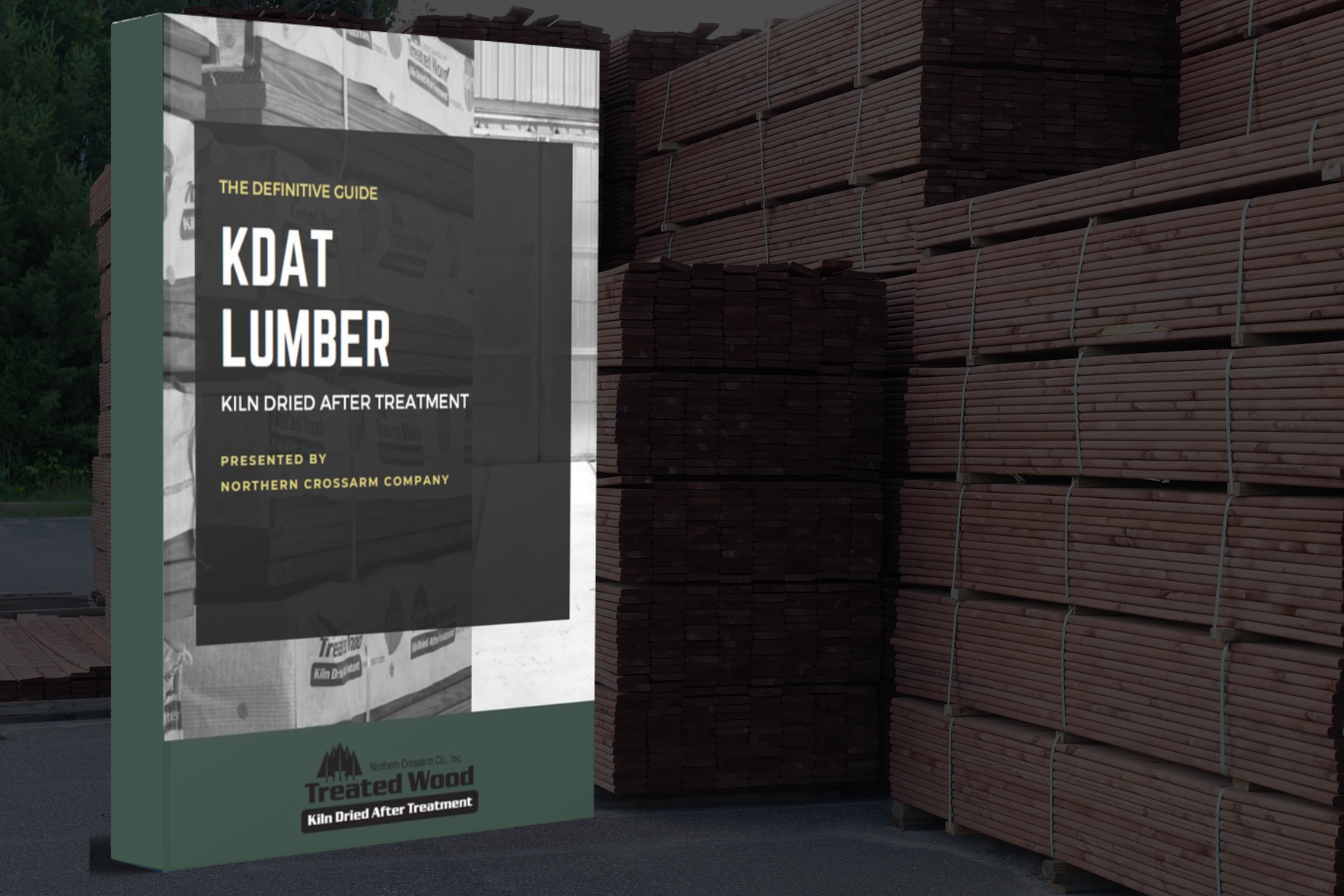 FREE 37-Page KDAT Lumber Guide
The Ultimate Guide to KDAT Lumber
Kiln Dried After Treatment (KDAT) wood is pressure treated lumber that's been dried after the pressure treating process to deliver better resistance against warps, cups, twist and checks.
Brown Treated Wood Articles
90-Day Stocking Dealer Program
Try our top-selling KDAT for 90 days, risk free – if it doesn't sell, we'll pay to ship it back!